Albright offer a wide range of D.C. contactors suitable for use in forklift trucks as well as pallet trucks, reach trucks and counterbalance trucks.  Our unique designs and excellent standards of manufacture result in D.C. contactors for forklift trucks which are compact, of superior quality and reliable performance.
D.C. Contactors for Forklift Trucks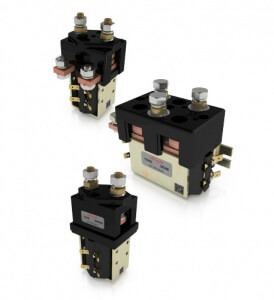 Our SW80, SW180 and SW200 series of D.C. contactors provide an array of options for forklift truck, pallet truck, reach truck and counterbalance truck applications.  These include single pole, single throw configurations, changeover and motor reversing D.C. contactors.  Albright D.C. contactor types with single pole, single throw configurations include the SW80, SW85, SW90, SW180, SW184, SW185, SW200, SW204, SW208 and the SW210.  The changeover D.C. contactors available are SW84, SW181 and SW201.  Motor Reversing types available include DC88, DC182, SW88, SW822, SW182, SW192 and the SW202.
Furthermore, our new RW and RU Series offer a lower cost alternative to our standard contactors.  These D.C. contactors follow the existing design of our SW and SU series contactors, however the main contacts contain a reduced amount of silver.  The RW and RU series are particularly suitable for line contactor duty applications where switching is infrequent such as forklift trucks, pallet trucks, reach trucks and counterbalance trucks.
Emergency Disconnect and Combined Disconnect Switches
In addition to our D.C. Contactors we also design and manufacture an extensive range of Emergency Disconnect and Combined Disconnect switches.  Our Emergency Disconnect switches provide a means to disconnect the battery whilst our Combined Disconnects present the line contactor and emergency disconnect capability in one compact product.
Custom Made Options Available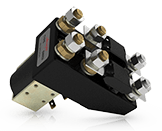 As designers and manufacturers of D.C. Contactors, Albright are able to offer custom-made solutions should you not be able to find a suitable option from our extensive range of products.  Our bespoke products can be a component part or an entire contactor.  Working with your specifications we are able to provide prototypes and perform testing by our in-house laboratory to assure an optimised solution to meet your requirements.
Spare Parts for Forklift Trucks
Albright offer a full range of genuine spare parts for a number of our D.C. contactors in the SW80, SW180 and SW200 series.  Spare parts available include complete service kits or individual spare contacts, top covers and coil assemblies.
Technical Support
Albright provide Technical Support for our customers, offering advice, answering queries and addressing any concerns either prior to, during or following your purchase.  Our Technical Support Team are available via our technical email address or by phoning our local offices or distributors.