The beginning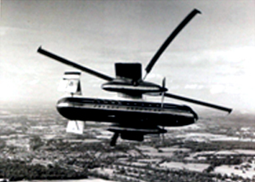 The founders of Albright, Mr. Victor Bedggood and Mr. Roland Catt, were introduced to each other by a mutual partner in the early months of 1944.  From May 1944, Messrs. Bedggood and Catt worked in their spare time, without any remuneration, until the end of August 1945.
After successfully working together informally, they decided to start a company with their mutual partner and Lion Switchgear was officially incorporated on 16th May 1945.   However, conditions – insufficient orders combined with too high labour costs – proved to be unsuitable to maintain a satisfactory position for the company.  In conclusion, Victor and Roland detached themselves from Lion Switchgear in June of 1946 with the idea to form a new company.
The acquisition of the Red Lion Road premises and goodwill from Lion switchgear followed.  All that was required was a name for the new company.  Quite unconnected with either Messrs Bedggood or Catt, a company called Albright [Engineers] Ltd had been incorporated on 25th March 1943.  However, this company had remained dormant since that time and had little or no tangible assets. It was therefore purchased in September 1946 by Messrs Bedggood and Catt as a means of acquiring an established registered company.  Albright as we know it came into being.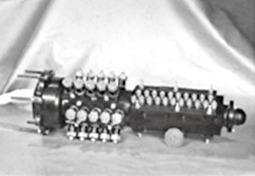 The initial objective of the new company was to be subcontracting manufacturing engineers with an emphasis on electrical products.  It required a great deal of courage to embark on such a venture: The second world war was over; the UK was all but bankrupt and there was an enormous surplus of manufacturing capacity because of the war ending.  Then came the winter of 1947, one of the worst on record which caused transport disruptions, restrictions on power consumption and food shortages.  This harsh winter resulted in a severe lasting effect on British Industries with around 10 per cent of the year's industrial production lost and millions of pounds in damage from the March floods.
The new company had to survive this situation in the first year of operation.
The strong commitment and determination of the directors ensured the company survived the circumstances of their first year in business.  Though it is believed that the directors sold personal possessions in order to keep the company afloat.  The spirit, integrity and belief shown by the founding directors has endured through the company's history which has become synonymous with quality, commitment and innovation.
From these challenging beginnings the Albright company flourished, moving from manufacturing specialist switch gear to customers designs to manufacturing our own designs, thus establishing the start of the Albright Contactor Range in 1955.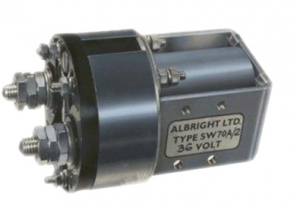 By 1962 we were ready to expand, which initially involved supplying our contactors to Europe.  Roland and Victor's sons, Tony and Nigel respectively, joined the company in 1970, and by 1973 they had been passed the baton to manage Albright's fortunes.  1978 saw the supply of our contactors into the USA market and under Tony and Nigel's leadership, our manufacturing capability increased when we opened a 2nd facil­ity in the UK at Whitchurch in 1986.  Further expansion into Europe (Lithuania) and Asia (China) followed in 2008.  To manage sales, along with a sales of­fice in the UK, strategically placed Sales Offices have been set up in Japan (1993), France (1999), China (2008) and Ger­many (2009).  An established network of international distributors completes our global coverage.
Over the years, the range of industry leading products has continued to grow to meet customers' needs and opportunities in the market. We now offer more than 100 types of contactors and emergency disconnect switches with over 10,000 unique part numbers.  Our markets are wide and varied and include, but are not limited to, applications in the Electric Vehicle, Telecoms, Medical, Marine, and Transport industries.
Albright Today
Remaining a privately owned company, with the 3rd generation now at the helm, we are proud to be one of only a few companies that wholly designs and manufactures its own contactor product ranges.  During our 70 + years, we have gained expertise and built a reputation for innovative and original designs and excellent standards of manufacture.  We strive to build right first time and deliver a repeatable process to our customers. Ultimately ensuring that Albright continue to deliver high quality, reliable and innovative contactors to our valued customers.
Innovation
We have over 60 years' experience in designing D.C. contactors and emergency disconnects with a dedicated design centre and the latest/hi-tech design facilities.  Should you not find a product from our extensive range which fits your needs, we are able to customise designs and develop unique products for a particular application or conditions.  This could be a variation of existing component or product through to new bespoke contactor.
In addition, to support our innovative approach and remain at the forefront of contactor technology, we have developed progressive production techniques and introduced advanced manufacturing systems to all our manufacturing sites.  Our Manufacturing facilities operate globally to identical Albright processes and standards to ensure the high quality and reliable performance of our products.
Customer Focus
We endeavour to provide the best service possible for our customers.  To this end we offer technical support available prior to, during and post purchase.  Our technical support teams provide assistance in selecting the correct product for your application, technical advice, help resolve any issues and answer queries.  Furthermore, our Sales teams assist our customers concerning our ordering process, from quotes through to delivery to ensure timely fulfilment.
Continuous Improvement
Over the years we have strived to improve our standards in every aspect of our business, with the key objective to give our customers high quality in process, service and product. As a result, we have developed in-house methods, with some adopted globally recognised practices too, which guide and measure us in ensuring we achieve the goals we set ourselves. This we have put together in our own operational quality standard, which we have called ITER, Latin for a journey.
The key tools within this standard cover everything from the way we manage the work place, to our ability to maintain all standards we have set ourselves, or have been set by others, through to measuring our performance in completing a customer request of any type.
Quality
All our manufacturing facilities are operated by our trained teams whose expertise and competence, built up over the years, results in reliable deliveries of our products which have been manufactured to the highest standards. Our dedicated Sales team and Design and Technical Engineers ensure that the correct contactor is provided for your application.
All our processes, procedures and standards are managed from the UK and we adhere to national and international standards such as UL, CCC, CACT and ISO9001:2015.
By only using High specification materials including thermosetting contact housings, silver alloy contact tips, substantial copper conductors, Class H insulation for coils and self-lubricating armature bearings, we ensure a high quality product is manufactured which can be relied upon to perform again and again.
Integrity
We endeavour to assure the quality of our product by ensuring compliance and high standards are achieved to meet national and international standards and accreditations.  Furthermore, we adhere to materials compliance specifications including the RoHS, REACH and Conflict Material directives.  We are ISO14001:2015 compliant and as a company, for many years we have been pro-active in keeping our environmental impact down to a minimum, implementing environmentally conscious policies across our activities from design through to production.
Commitment
We are committed to achieving a quality product time and again.  So, when selecting an Albright product, you can be confident of receiving a contactor which delivers:
Innovative and original design

– comp

act

and efficient without compromise.
Excellent standards of manufacture – produce a superior quality of contactor.

Reliable Performance

– proven in thousands of applications around the world.

High specifi

cation materials

– thermosetting contact housings, silver alloy contact tips, substantial copper conductors, Class H insulation for coils and self-lubricating armature bearings.