The Single Pole, Normally open HV500 is the first high voltage contactor from Albright International, launched in 2021, the release has been a great success and the HV500 is now used in many different applications. During the launch of this new product it was soon realised that the market needed the HV500 to be validated at higher voltages.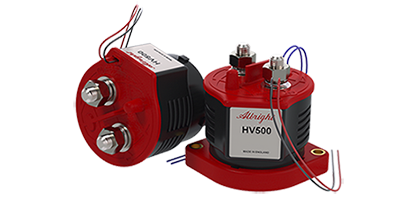 Following this feedback we are now pleased to inform existing and new customers that the HV500 has been tested and validated for voltages up to 1000V DC, and the updated HV500 Catalogue is now available.
Users are advised to verify actual performance in end application.
Albright are continuing to expand our range of high voltage contactors with the Normally closed – HV505 and 100 Amp – HV100 to be released next year. Further details will follow on these new products.
For further information about our high voltage products please contact our technical support team: technical@albrightinternational.com