Albright manufacture a variety of innovative D.C. Contactors and Emergency Disconnect Switches appropriate for use in Industrial trucks such as stackers, reach, pallet, warehouse and counterbalance vehicles.  Our unique designed products are made to the highest standards resulting in excellent quality and reliable performance of our products.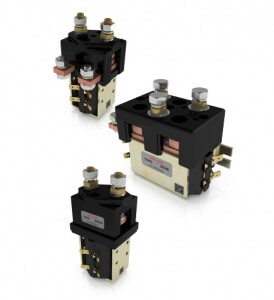 D.C. Contactors for Industrial Trucks
Our selection of D.C. Contactors suitable for industrial trucks include the SW80, SW180 and SW200 series which offer single pole single throw configuration, changeover types and motor reversing options.  This includes, but is not limited to, SW80, SW85, SW180, SW184, SW200, SW210, DC88, DC182, SW88, SW202, SW84, SW181 and SW201.
Additionally, our RW and RU series are suitable for industrial trucks.  The RW and RU series follow the design of their respective SU and SW counterparts with the exception of the silver content in the main contacts which has been reduced.  Suitable for line contactor duty applications which require low switching duty the RW and RU series provide a reduced cost contactor option.
Emergency Disconnects and Combined Disconnect Switches
Our Emergency Disconnect switches have been designed to provide a means to disconnect the battery in emergency circumstances.  Our Combined Disconnects are a one unit device which includes both a line contactor and emergency disconnect capacity.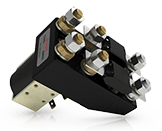 Custom Made Options Available
Additional to our large selection of D.C. Contactors and Emergency Disconnects and Combined switches we are able to offer custom made options for those unique applications or conditions.  We can design new or adapt existing components or whole contactors, produce 3D CAD images and prototypes and carry out testing in our in-house laboratory.  Working closely with you to ensure we meet your requirements, you can be confident in delivery of a high quality bespoke product.
Spare Parts for Industrial Trucks
A range of spare parts are available for servicing existing Albright D.C. contactors.  Spare parts available include complete service kits or individual spare contacts, top covers and coil assemblies.
Technical Support
Albright Technical Support is available to provide assistance with selecting the appropriate contactor or disconnect switch for your industrial truck.  Our Technical Support team can answer any questions, provide guidance, help identify any potential issues and recommend resolutions. Our Technical Support Team are available via our technical email address or by contacting our local offices or distributors.
For further details on our products suitable for industrial trucks visit dev.electricstudio.co.uk