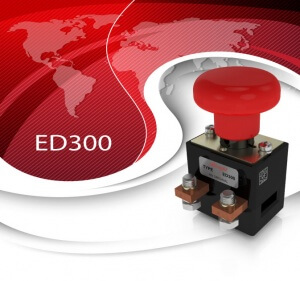 Introducing the latest addition to our Emergency Disconnect Series, the ED300 is a new Emergency Disconnect switch which has been designed to provide a rapid means of disconnecting batteries or other power supplies in the event of serious electrical faults.
Rated at 300 amperes with a single pole, single throw configuration this compact, low cost switch is primarily intended for the Power Distribution and Electric Vehicle markets.  It is capable of safely rupturing full load battery currents in the event of an emergency.
The ED300 is a manually operated device with an over-centre spring mechanism which provides a "snap action" for both opening and closing the main contacts.
The ED300 is an original design,  easy to install – secured with supplied M5 posidrive mounting screws, and is competitively priced.
For further information on the ED300, please refer to our ED300 Catalogue Data Sheet or contact our Technical Department.